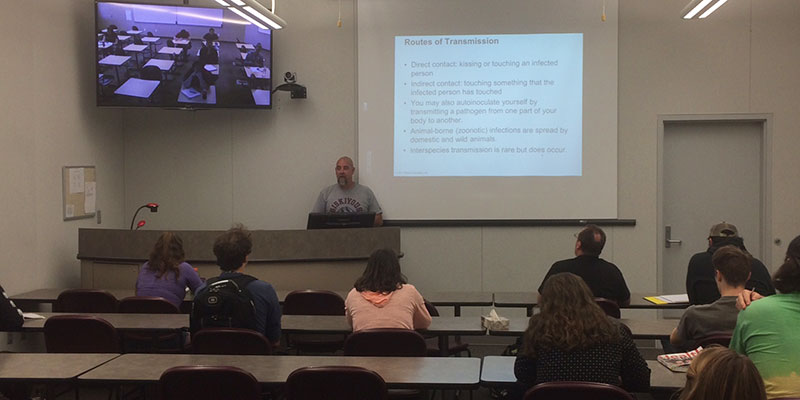 Videoconferencing
Videoconferenced courses take place on campus and at one or several regional classrooms in Siskiyou County. They use two-way video and audio that allow real-time interaction among several sites simultaneously. These courses have regularly scheduled meeting times and have weekly assignments and learning activities that require you to participate regularly. They require an internet-connected computer or mobile device to access the Canvas LMS. The Weed and Yreka campuses have computer labs available for student use.
College of the Siskiyous has 8 videoconferencing classrooms on the Weed campus, 7 videoconferencing classrooms on the Yreka campus, at the Community Computer Center building in Happy Camp, and at the high schools in Butte Valley, Etna, Modoc, and Tulelake.
To find out which classes are offered through videoconferencing, see our Distance Learning Schedule which includes these classes.
Contact Distance Learning
For more information about videoconferencing, contact the office at:
Email: distlearn@siskiyous.edu
Phone: (530) 938-5520
Video Classroom Locations
COS Weed Campus
Mailing address: College of the Siskiyous, 800 College Avenue, Weed, CA 96094
Street address: 800 College Avenue
Phone: (530) 938-5520
Contact: Anne-Marie Kuhlemann and Michael Reetz
Email: distlearn@siskiyous.edu
COS Yreka Campus
Mailing address: College of the Siskiyous, 2001 Campus Drive, Yreka, CA 96097
Street address: 2001 Campus Drive
Phone: (530) 938-5925
Contact: Anne-Marie Kuhlemann and Michael Reetz
Email: distlearn@siskiyous.edu
Butte Valley
Mailing address: Butte Valley High School, P.O. Box 709, Dorris, CA 96023
Street address: 615 West 3rd Street
Phone: (530) 397-3994
Contact: Natalie DiCicco
Email: ndicicco@bvalusd.org
Etna / Scott River
Mailing address: Scott River High School, P.O. Box 59, Etna, CA 96027
Street address: 450 Campus Way
Phone: (530) 467-5279
Contact: Micheline Miglis, Superintendent
Email: mmiglis@svusd.us
Happy Camp
Mailing address: Distance Learning Center, Happy Camp Community Computer Center, P.O. Box 1148, Happy Camp, CA 96039
Street address: 25 Fourth Avenue
Phone: (530) 493-1485
Contact: Frank Snider
Email: fsnider@karuk.us
Modoc
Mailing address: Modoc High School, 900 N Main Street Alturas, CA 96101
Street address: 900 N Main Street
Phone: (530) 233-1802
Contact: Brian Norby, Principal
Email: bnorby@modoc.k12.ca.us
Tulelake
Mailing address: Tulelake High School, P.O. Box 640, Tulelake, CA 96134
Street address: 850 Main St.
Phone: (530) 667-2292
Contact: Bryce Brin, Principal
Email: bbrink@tbjusd.org