Class Schedules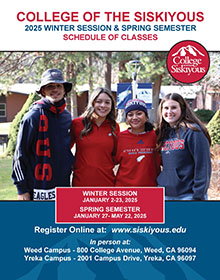 2023 Spring Semester Schedule of Classes (PDF)
Catalog
The 2022-23 COS Catalog provides information about the programs and courses we offer, and the guidelines for enrollment, financial aid, and student support services among other general information.
Continuing Education
College of the Siskiyous offers Continuing Education courses in the areas of Noncredit, Community Education, and Contract Education to the benefit of learners of all ages. The classes include a mix of vocational, workforce skills, technology, recreation, art, physical and intellectual activities. These courses are offered throughout the year, so check our website for updates on new classes that may be offered.
Distance Learning / Online Learning
College of the Siskiyous offers courses online and via videoconferencing to reach students in outlying areas of Siskiyou County. Online courses can be taken from any Internet-connected computer. Videoconferencing connects several high school classrooms in the County to offer real-time interactive learning. Visit our Distance Learning page.