Launch your career and get promoted! Our Administration of Justice program has trained hundreds of students for careers in criminal justice. We're the go-to program for current officers seeking professional development and anyone looking to start their career in law enforcement. Courses that were only available in the classroom are now available to you 100% online!
Enroll Now
Financial Aid is available for those who qualify.
Recommended by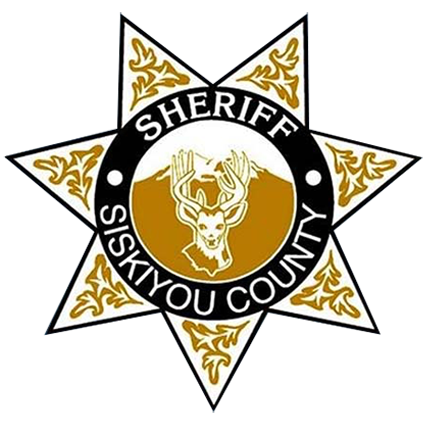 Siskiyou County Sheriff's Office
Online Degrees and Certificates
Associate of Science Degree
The Associate of Science Degree provides a comprehensive overview of the criminal justice system, through curriculum that includes the study of law enforcement, the criminal courts, and corrections. The degree prepares students for a variety of careers in criminal justice fields.
View Courses for this Degree
Associate of Science-Transfer Degree
The Associate in Science Degree for Transfer will meet the needs of students transferring to a California State University who intend to study in a criminal justice related major. Students should consult with a counselor to determine whether this degree is the best option for their educational goals.
View Courses for this Degree
Certificate of Achievement
This 18 unit course of study in the Administration of Justice provides students with in-depth coursework for workforce preparation. The certificate includes a comprehensive overview of the criminal justice system, through the study of law enforcement, the criminal courts, and corrections.
View Courses for this Cert
Who Should Enroll in the Online Administration of Justice Program?
Currently employed officers - Many law enforcement agencies now require you to hold a college degree or certificate to be considered for promotion. This online program is perfect if you don't have time to sit in a classroom each week, and need education that's flexible enough to fit into your schedule.

Anyone interested in criminal justice fields - No prior knowledge or experience required. You can enroll in the online program while in high school or anytime you're ready to launch your career.
When Do Online Classes Start and End?
The schedule follows our regular college semester with classes starting in the spring and fall. During the semester you can "attend" class whenever it's convenient. All you need is a computer and access to the internet. If you're a high school student, we encourage you to enroll during your junior or senior year of high school.
Currently Employed Law Enforcement Officers
If you are interested in our online degrees or certificate please complete and submit this interest form.
"The College of the Siskiyous Online Administration of Justice Program provides a convenient opportunity for students considering careers in law enforcement, and is an excellent way for peace officers to earn a degree and enhance their promotability."

Jeremiah LaRue


Siskiyou County Sheriff
Now is the Time! A College Degree Can Make All the Difference.
You could be one degree or certificate away from a career as a:
Police Officer
Detective
Correctional Officer
FBI Agent
CIA Agent
Crime Scene Investigator
ATF Agent
Bailiff
Airport Security Officer
Secret Service Agent
Drug Enforcement Agent
Detective
Criminologist
US Marshal
Enviromental Conservation Officer
Juvenile Court Counselor
Speak with one of our counselors to learn more about specific jobs within the criminal justice career field.
What Will You Learn?
Our Administration of Justice curriculum will prepare you to pursue a career in a variety of criminal justice fields at the local, state, and national levels.
Coursework includes: Introduction to Administration of Justice, Crime Scene Investigation, Criminal Law, Criminal Court Procedures, Corrections, Criminology, and Community and the Justice System.
We also offer a comprehensive public safety training program including a police officer academy and state-mandated training courses for the Law Enforcement Community.
After completing this program you'll be able to:
Critically evaluate theories, policies, and criminal justice actions based on empirical evidence.

Communicate and express yourself in a clear and professional manner.

Articulate your effective written and verbal communication in law enforcement environments.

Express your knowledge of policing, courts, and corrections.

Share your knowledge of the theories of crime and justice.

Understand the diverse and multicultural nature of society.

Demonstrate the ethical decision-making process needed in the criminal justice profession and understand the individual, organizational, and societal implications of your decisions.
Why Should You Enroll In This Online Program?
We took our battle tested curriculum out of the classroom and moved it completely online. Coursework can now be completed anywhere/anytime with a computer and internet access.
To make sure each student is successful we've hired instructors that have prior law enforcement experience plus training, degrees, and certifications specifically for online teaching.
Our curriculum is certified to meet California's rigorous online education standards and our ability to teach is uniquely enhanced by our instructor's practical experience in the field.
If scheduling face-to-face classes kept you from attending, this online curriculum may be the answer. These fully online courses now give you more options to advance your education and career.
F.A.Q.s
A: Some students are worried that they will be on their own to learn and study. That is not the case in our program. Our courses offer opportunities for communication and collaboration with instructors and other students. We aim to build a community in the virtual classroom.
A: No, our courses are offered using the Canvas learning management system which is a free online platform that you will log into. You won't need to purchase or download any software.
A: You are encouraged to take a recommended sequence of classes each semester. In each class we offer individual and group study opportunities. An important aspect of online learning is building a sense of community with student engagement through student-to-student communication, and instructor to student communication, through the use of collaborative platforms such as YouTube.
A: Yes, many of our students have never taken online classes before. Our instructors will walk you through the structure of the course and teach you how to use Canvas. We are always ready to respond to your questions and offer personal contact and feedback to keep you moving in the right direction.
This webpage is supported by the Improving Online CTE Pathways project, funded by the California Community College Chancellor's Office's California Virtual Campus-Online Education Initiative (CVC-OEI) as part of a one-year grant award totaling $464,700. The contents are those of the author(s) and do not necessarily represent the official views of, nor an endorsement by, CVC-OEI or the California Community College Chancellor's Office. For more information, please visit cvc.edu/pathwaysgrant.