Frequently Asked Questions (FAQs)
Why should I choose Student Lodging over off-campus housing?
In addition to the convenience of living on campus, and regular opportunities to participate in activities, students who live on campus will meet new friends and have personal freedoms protected by lodge staff. Students living on campus also tend to have better grades, complete their educational goals sooner.
Where do I eat?
Meals on campus are prepared by COS Food Services staff. The cost of food is included in the license price; you simply need to choose your meal point option.
Which meal point plan should I choose?
Students will not eat all of their meals on campus. Therefore, meal plans have been selected to meet a variety of student needs. Plans available to Lodge residents average the following meals per week:
1500 points per semester = an average of 9 meals per week
2000 points per semester = an average of 12 meals per week
2300 points per semester = an average of 14 meals per week
The averages are based on the purchase of buffet meals. Purchasing specialty drinks and snacks may change how quickly meal points are used.
How do the meal points work?
Points spend like dollars in the food services area and have no cash value. A student orders food or selects items from the buffet. The items are totaled up at the cash register, and points deduct from a student's meal card, equivalent to the dollar value of the food. If a person does not have a meal card, they must pay using cash, credit, or debit.
Can I change my meal plan?
Yes, lodge residents can change meal plans during each semester's first 10 business days. If meal points are running low at the end of a semester, points can be added for $1 per point through the college's Fiscal Services office.
When are the lodges open (dates of occupancy)?
Lodges are open during the Fall and Spring Semesters and on a limited basis during Summer and Winter terms
Academic Lodging and Dining Schedule
What's included in the cost?
Simply put all of your basic needs are covered so you'll be able to focus on being a student. We provide a furnished room, wireless internet service, cable TV, events and activities, custodial services, dining services, access to laundry on site and round the clock staffing.
Can I stay over school break periods?
The Lodge Contract/Licenses does not include housing or meal service during breaks in the school year. Lodges are closed during break periods and key cards are deactivated. Students are expected to vacate the Lodges during the break. Personal belongings may remain in a student's assigned room, any valuables should be secured or removed during breaks in the school term. Those with academic programs can obtain a supplemental contract. See the Lodges office for details.
How much does it cost to live on campus?
See our current rates for room and board.
How much does it cost to live off campus?
Living off campus is an option for College of the Siskiyous Students. While rental rates will vary it is important to remember some of the additional costs that will be shared by roommates. Here is a sample of what a student might typically pay.
The time required to commute, prepare food, and clean is not included in this chart. What is your time worth as a student?
Monthly Expenses

| Monthly Expense | 1 person | 2 people (each) |
| --- | --- | --- |
| Two bedroom apartment | $750 | $375 |
| Water, Sewer, Garbage | included | included |
| Electricity | $100 | $50 |
| Cable TV | $40 | $20 |
| Internet Service | $40 | $20 |
| Commuting (25 miles per day) | $120 | $60 |
| House hold supplies | $30 | $15 |
| Food (self prepared) | $510 | $255 |
| Totals | $1370 | $685 |
What size are the beds?
Lodge mattresses are twin extra long = 35 inches wide by 80 inches long.
What is my mailing address?
Lodge student mail and packages are delivered to a central receiving area on campus. College staff then distributes the mail to each department including the Lodges. Large and signature required packages are held in the Lodge mail room. A "package slip" is placed in the student's mailbox to inform them they have mail. When sending mail please address the package as follows:
Student Name
COS Lodges
800 College Ave
Weed, CA 96094
What does my room look like?
The rooms are 18 feet long by 11.5 feet wide with 2 closets and are equipped with heat, air, basic cable television, and wifi. Each student receives a twin extra long bed 35 inches wide by 80 inches long, a three drawer dresser, study desk, and chair.
What appliances can I bring?
Students are welcome to bring a small fridge no larger than 4.5 cubic feet. No heat generating devices are allowed in room. See handbook for more details.
How can I set up my room?
Residents are encouraged to put posters and wall-hangings up using tacks or release strips no screws or nails are allowed. You can also work with your roommate(s) to create more space by changing the room layout. All furniture assigned must stay in the room.
What's in my building?
Amenities in Lodge common areas include: microwave, laundry room, fireplace, vending machines, wireless internet, flat screen TV, ping pong, pool table, and a personal mailbox.
What should I bring and not bring?
What to Bring
Bedding (36x80 inches), coat, clothes, toiletries, laundry soap, school supplies
Optional items may include: Computer, TV, stereo (with headphones) desk lamp, shower shoes, mattress topper
What Not to Bring
Subwoofer, microwave, hot plate, heater, candles, incense, alcohol, drugs and/or paraphernalia/advertisements, coffee pot, toaster oven are prohibited.
Can I pick my roommate?
We make every effort to assign students who request each other together however in the event it is not possible students will be placed in the nearest available space.
Do you have any pictures of a bedroom?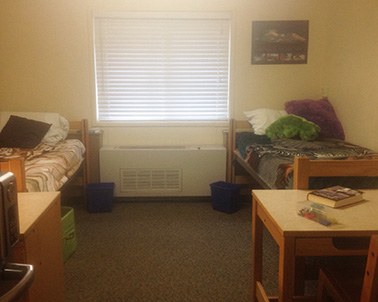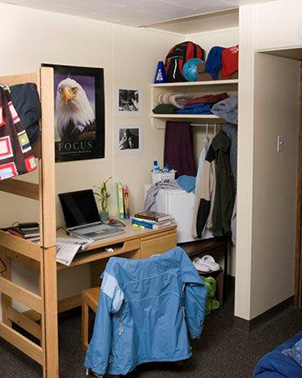 Contact Student Lodges
800 College Ave, Weed, CA 96094
Email: lodges@siskiyous.edu
Phone or Text: (530) 938-5237