Administration of Justice
Administration of Justice is the study of the principles of the federal, state, and local justice systems and subsystems. The curriculum prepares students for careers in a variety of criminal justice fields at the local, state, and federal levels. The two-year program at College of the Siskiyous allows students to complete an Associate of Science degree, an Associate in Science degree for Transfer to a California State University, and an 18 unit Certificate of Achievement in Administration of Justice.
Program Learning Outcomes
Upon successful completion of this program the student should be able to:
Critically evaluate theories, policies, and Criminal Justice professionals' actions based on empirical evidence.
Communicate and express themselves in a clear and professional manner.
Demonstrate effective written and verbal communication skills.
Demonstrate knowledge of policing, courts, and corrections.
Demonstrate knowledge of the theories of crime and justice.
Demonstrate an understanding of the diverse and multicultural nature of society.
Demonstrate the ethical decision-making process in Criminal Justice professions and understand the individual, organizational, and societal implications of these decisions
Career Options
The following list is a sample of the many career options available for the Administration of Justice or Criminal Justice majors. Many require an associate degree, some require a bachelor's degree, and a few of these require a graduate-level degree: Deputy Sheriff, Police Officer, Detective, Correctional Officer, Probation Officer, FBI Agent, CIA Agent, Crime Scene Investigator, Alcohol, Tobacco and Firearms Agent, Emergency Management Director, Security Guard, Paralegal, Bailiff, Airport Security Officer, Secret Service Agent, Warden, Drug Enforcement Agent, Coroner, Attorney, Criminologist, US Marshal, Environmental Conservation Officer, and Juvenile Court Counselor.
Work Experience Education Credit
Students can earn Occupational Work Experience units through supervised employment in an on-the-job learning environment relating to their career goals. For more information, visit our Cooperative Work Experience Education (CWEE) page.
Faculty
Louis Mero
Email: lmero@siskiyous.edu
Phone: (530) 938-5599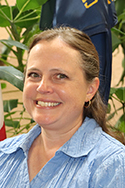 Leigh Moore
Email: lmoore1@siskiyous.edu
Phone: (530) 938-5559
Contact
Program Contact: Career and Technical Education
Email: cteinfo@siskiyous.edu
Phone: (530) 938-5512