Theatre
The COS Theatre program is dedicated to the advancement of the theatre arts, through traditional study and performance, and to the development of new theatrical ventures. We prepare students for further study and for an ever-changing profession.
COS Fall 2023 Production - She Kills Monsters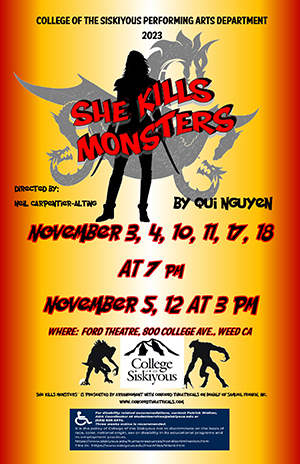 COS Performing arts is thrilled to present our Fall production of "She Kills Monsters." Identity, grief, and triumph intersect in this zany, fantastical play by Qui Nyugen.
"She Kills Monsters" is a story about kids who make up stories, stories in which girls wield swords, and nerds rule the earth. A comedic romp into the world of fantasy role-playing games, "She Kills Monsters" follows the journey of Agnes Evans as she leaves her childhood home in Ohio following the death of her teenage sister, Tilly. When Agnes finds Tilly's Dungeons & Dragons notebook, however, she stumbles into a journey of discovery and action-packed adventure in the imaginary world that was Tilly's refuge. In this high-octane dramatic comedy laden with homicidal fairies, nasty ogres, and 90s pop culture, acclaimed young playwright Qui Nguyen offers a heart-pounding homage to the geek and warrior within us all.
We had such a great response to our auditions that the show was cast TWICE… so we have two full casts that will be sharing the stage during this run. We have current and former COS students, students from Weed and Mount Shasta High Schools that are cast, crew, monsters in this fun production.
Shows will be performed on:
November 3 at 7:00 pm
November 4 at 7:00 pm
November 5 at 3:00 pm
November 10 at 7:00 pm
November 11 at 7:00 pm
November 12 at 3:00 pm
November 16 at 7:00 pm
November 17 at 7:00 pm
November 18 at 7:00 pm
Please note that this show contains some adult themes and violence.
Contact Theatre
Email: theatre@siskiyous.edu
Phone: (530) 938-5206

Join Our Mailing List